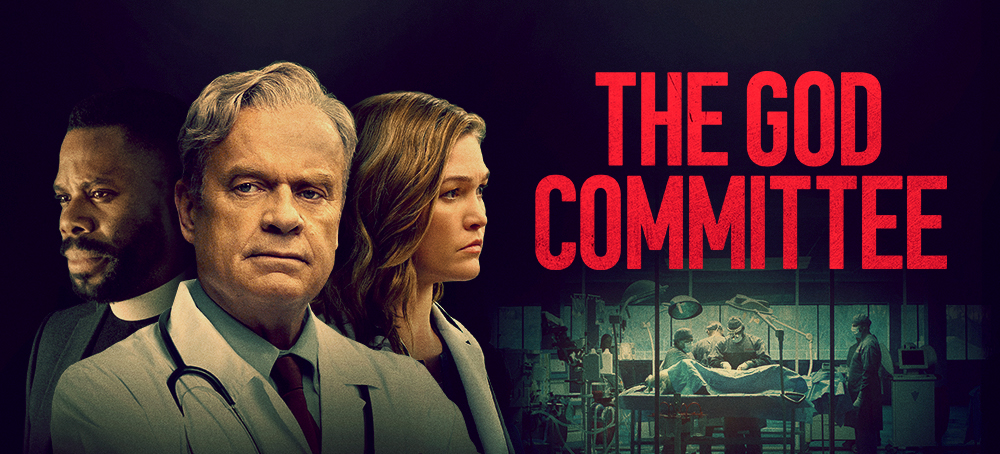 The Rating
Donate Life Hollywood (DLH) gives The God Committee 3 out of 5 based on criteria in the DLH Scorecard
The Film
The God Committee is the latest release from writer/director Austin Stark (The Runner, The Infinitely Polar Bear) starring Kelsey Grammer, Julia Stiles, Coleman Domingo, and Janeane Garofalo. Debuting June 20th at the 2021 Tribeca Film Festival, The God Committee will be released in select theaters and on demand July 2nd. This medical drama focuses on a donated heart to start a ticking clock. When the intended recipient dies during surgery prep, a fictional transplant committee has an hour to decide which of three flawed patients at their transplant center should receive the organ.
The Good
Writer/director Austin Stark has said that he "made this movie to make a difference."
Stark wanted to bring attention to the worldwide organ donation shortage, give people hope for the future of transplantation and motivate people to donate their organs. Austin and the film's distributor, Vertical Media, committed to raise awareness about donation during the film's publicity. They worked closely with DLH, Donate Life America and UNOS to incorporate pro-donation talking points in their press junket and created a RegisterMe.org/TheGodCommittee page.
The Bad
The film perpetuates the myth that money influences the organ transplant system.
This familiar Hollywood storyline uses the organ shortage as the entry point to our cause then adds money, power and the desperation to stay alive to create one of the biggest myths about the transplant process. The public has seen this story so often that people truly believe that money can determine who gets a transplant, which creates distrust in the system. According to research, myths like this can stop people from registering to be organ donors and potentially cost lives.
Missed Opportunity
The film misses an opportunity to show how an organ transplant transforms lives.
Those of us who work in the donation community know that recipients are the most grateful people you will ever meet. Each of them had a desperate health condition and were restored to life by the "yes" of someone else, often a complete stranger. That kind of transformation extends beyond physical health and changes people's perspectives on what is important in life. Transplant recipients often say they are living not just for themselves, but for their donor as well. Someone who has been given a second chance at life rarely squanders it. Instead they work diligently to maintain their health and give back to the world as thanks for their gift. We didn't get to see this type of mental and physical transformation in the patient who ultimately receives the heart, and it was a missed opportunity.
Rate It!
If you see The God Committee, or any organ donation/transplant storyline, please use the DLH Scorecard to rate it yourself and let us know what you think!
Writer Resources
Donate Life Hollywood is always available to provide free expert consultation to writers and content creators. DLH can help you craft an authentic and powerful storyline.
To learn more about the most successful organ donation system in the world and how the waiting list in the United States works, find resources from UNOS.
Hollywood's short-hand with organ donation is to show the donor card, but there is more to it than that. Find out how donor registration really works from Donate Life America.
Quote From DLH Real Life Expert
"When I was going through the actual process to get listed for a transplant I was rejected for the list the first time. A deeper evaluation of my heart led to the need for open heart surgery prior to listing. The film shows the type of critical decision making necessary to choose who gets put on the waiting list, and that not everyone is eligible for a transplant. However, patients are always ranked by time waiting and urgency of need so there's no confusion on who is next in line once an organ is available."
- Joe Lafferty, Kidney/Pancreas Recipient